How it works
Scrap metal recycling helps you and the environment!
We provide immediate payment for all scrap metal. Cash or check, you choose.
questionDon't have a big enough truck?
That's okay! We provide containerized service, call us for details.
1. Get Here

Turning your scrap metal into cash is easy, just bring it down to the yard at 270 Central Avenue in Bridgeport.

2. Get Weighed

Your scrap metal will be weighed on our state certified scales and unloaded.

3. Get Paid

You receive a ticket from our scale. Bring it to our customer service staff and receive your money.
What we do
After you are paid our job is to sort and process your scrap metal.
We do this by classification and grade. After that, it is transported to end users for recycling and turned into new metal that can be reused.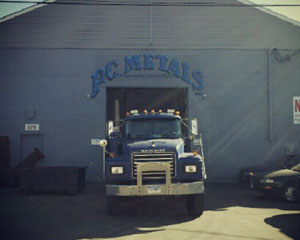 We take all the necessary precautions to ensure our work is done with respect to the environment.
Hours of operation
Hours can change, so we've decided to keep you updated right here on our website.
| Mon | Tue | Wed | Thu | Fri | Sat | Sun |
| --- | --- | --- | --- | --- | --- | --- |
| 8am-3:50pm | 8am-3:50pm | 8am-3:50pm | 8am-3:50pm | 8am-3:50pm | 8am-11:50am | Closed |
date Special Closing There are no special closings at the moment.
We're a friendly bunch!
And we look forward to doing business with you! Here's a couple ways you can get a hold of us.